CVCA电子月刊 2011年7月


July, 2011
Upcoming Events

CVCA Salon-Wine Tasting and Jewellery Appraisal
As the quality of life in China rapidly improves, luxury products such as wine and jewelry are receiving more and more attention. French wine is notorious for providing its consumers with a special mellow feeling, and Chinese people have been interested in wine since ancient times. An increasing number of people are becoming interested in the collection of, and investment in high-quality wines. Additionally more and more people are beginning to consider the purchase of jewelry as a kind of investment, mainly due to appreciation of value. In order to help our members understand more about wine and jewelry, CVCA and CREDIA will hold "Wine Tasting and Jewellery Appraisal".
New Publication
The 2011 version of the "Laws and Regulations of VC/PE funds in China" is Online!
The China Venture Capital and Private Equity Association ("CVCA") issued the Codification for the first time in 2010, for the purpose of helping industry participants understand the current policies, laws and regulations of VC/PE in China. The relevant updates to the 2011 version focus on the new laws and regulations released subsequent to the 2010 version (which was issued on May 2010).
Welcome New Members
In no particular order
Regular Member

Magic Stone Fund of Private Equity Funds ("Magic Stone") was started by a team of veteran investors in the Chinese market place including a former founding partner of the first USD fund of private equity funds solely focused on China
CVCA Academy

Private Equity and Venture Capital Valuation
Please click here for online Webcast registration:
http://www.cvca.org.cn/mail2011/training20110729/index.htm
In PE/VC practice, a reasonable valuation is the precondition for investment, financing and deal making. Due to fierce competition, the results of valuations are virtually high in the practice.
Supported Events
· Beijing Investment Promotion Bureau-- Invitation to the Third Beijing Investment Fair
· E & Y Entrepreneur Of The Year
Industry News
· Onshore financial investing in China
· ASIA PRIVATE EQUITY WEEKLY NEWS, JUNE 27, 2011
· Group buyers vie for biggest market share
· Frontier Asia markets luring buyout firms
· DCM Named China's Venture Capital Firm of the Year
· UPDATE 1-JPMorgan PE unit to invest $200 mln in China over next 2-3 yrs-exec...
· Prada IPO Grapples With Hong Kong Slump
· China seeks path through the woods
· China May Ease PE Rules for Securities Brokerages, Daily Reports
· China Reverse-Merger Battle Pits Morgan Stanley Against Hedge Fund Shorts
Copyright © 2008-2014 China Venture Capital and Private Equity Association. All rights reserved.
China Private Equity Matters
July Edition Now On-line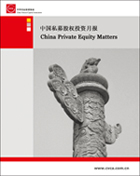 The monthly China Private Equity Matters tracks the recent news in private equity and venture capital industry in the Greater China region; as well as provides comprehensive analysis on investment trends, policy development and government moves. It is open to CVCA Members only.
Please read moreabout this month's issue.

Past Events
CVCA GP & LP Networking Luncheon Review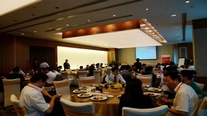 CVCA held a GP & LP networking luncheon to provide the sharing and view exchanging platform on July 5, 2011. CVCA members closely communicated with representatives from international well-known fund managers and domestic institutional investors such as National Social Security Funds, China Development Bank, insurance companies and state-owned companies. Members also exchanged views on hot topics concerning both GPs and LPs, atmosphere relaxed and responds well.
CVCA Study Mission to Guizhou and Guiyang: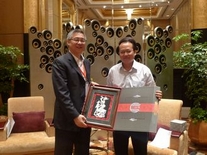 In order to foster the development of equity investment in western China and PE& VC industry in Guizhou province, China Venture Capital and Private Equity Association (CVCA) organized a high-level study mission to Guizhou and Guiyang on June 24th, 2011 (Friday). The mission seeks to bring investment opportunities and new economic ideas to Guizhou.