CVCA电子月刊 2012年10月


October, 2012
Upcoming Events
CVCA Annual General Meeting & China Venture Capital/Private Equity Summit 2012

CVCA Annual General Meeting & China Venture Capital/Private Equity Summit 2012 (AGM & Summit) will be held on Dec 6 and 7 at Grant Hyatt, Beijing, PRC. The AGM and Summit is a must-attend event where you will meet, listen to and talk with CVCA governors, the top-notch PE/VC leaders active in the greater China region. It is when CVCA members gather together to share experience and exchange opinions on future trend. The by invitation-only event provides you an access to a group of sophisticated PE/VC professionals, economists, experts and policy makers. You can rest assure that it's worth it as long as you are there.
CVCA News
CVCA Governors Made the Fourth Study Tour to Ministries of China
The Board of Governors of China Venture Capital and Private Equity Association (CVCA) concluded a two-day study tour to 8 ministry-level administrations of China on November 1st 2012. It is the fourth of such hi-end visit since 2009. The annual visit has laid a good foundation for building a smooth dialogue platform between CVCA and the VC/PE policy makers, and for helping VC/PE players get heard by the right people.
The eight national administrations meeting CVCA governors during this year's study tour are National Development and Reform Commission (NDRC), China Securities Regulatory Commission (CSRC), China Insurance Regulatory Commission (CIRC), Ministry of Commerce of the People's Republic of China (MOFCOM), State Administration of Taxation (SAT), State-owned Assets Supervision, Administration Commission of the State Council (SASAC) and The national social security fund council (SSF). Key topics discussed range from the newly released VC/PE policies and regulations, the logic and thoughts behind, to the next steps as well as the future policy preference from the angle of each administration.
The CVCA delegation was co-led by Mr. Yichen Zhang, Chairman of CVCA and CEO of CITIC Capital, and Mr. John Zhao, Chairman Elect of CVCA and CEO of Hony Capital. The delegation is composed of CVCA governors, selective partners of CVCA members and guests from 18 top-tier GPs and LPs.
Supported Events
· SuperInvestor Asia 2013, 28th – 30th January 2013, Singapore
· The 3rd Annual SuperReturn China 2013, 9-11 April 2013, Beijing
Copyright © 2008-2014 China Venture Capital and Private Equity Association. All rights reserved.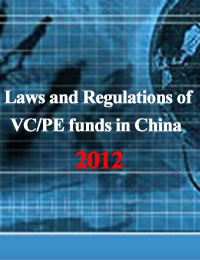 China Private Equity Matters
October Edition Now On-line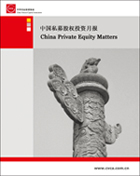 The monthly China Private Equity Matters tracks the recent news in private equity and venture capital industry in the Greater China region; as well as provides comprehensive analysis on investment trends, policy development and government moves. It is open to CVCA Members only.
Please read moreabout this month's issue.

Past Events
CVCA Academy - Investment Management Series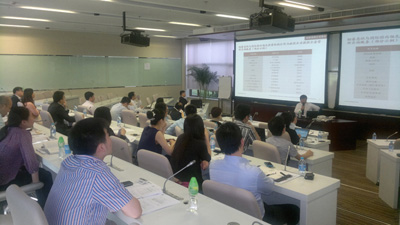 CVCA Academy held "Compensation and Incentive for Portfolio Companies" training course in Shanghai on September 25, 2012. The training attracted more than 30 CVCA members and professionals from non-member firms.
Media Center
CVCA Weibo