CVCA电子月刊 2010年3月


March, 2010
Upcoming Events
CVCA Business Roundtable Seminar
Structuring Issues in PIPE and Take-Private Transactions– Investment in China-Based Businesses that Are Listed Outside of China

Guest Speaker: Greg Liu,Partner, Paul, Weiss, Rifkind, Wharton & Garrison LLP
Time: 14:30pm - 16:30pm, Wednesday, March 24, 2010
Venue: 2nd Floor, Tower E3, Oriental Plaza, 1 East Chang An Avenue, Beijing, China
Language: Mandarin
Participation Fees: CVCA members for free; Non-members RMB800
CVCA Academy Advanced Management Series
ChiNext Listing Workshop in Shanghai

Speakers:
Mr. ZOU Xiong, Vice Director, Listing Promotion Division, Shenzhen Stock Exchange
Mr. Frank CHEN, Founder and Managing Partner,Chen & Co. Law Firm
Ms. WANG Yang, Partner, Ernst & Young
Time: 13:30 - 17:30, Friday, March 26, 2010
Venue: Function Room 5&6, Floor 3, InterContinental Hotel, No.777 Zhangyang Road, Shanghai, China
Language: Mandarin
Participation Fees: CVCA / SHPEA members RMB800; Non-members RMB2000
Senior Executive Investment and Management Series
China Economic Outlook and Capital Market Prospect 2010

Guest Speaker: Mr. Jun MA, Chief Economist for Greater China, Deutsche Bank
Time: 12:30pm - 14:30pm, Friday, April 16, 2010
Venue: Room 142-143, 14/F, China Club H.K., 2A, Des Voeux Road Central, Hong Kong
Language: English
Participation Fees: CVCA members HK$350; Non-members HK$900
CVCA/YVCC Entrepreneur Sharing Series
China's Innovation Era

Guest Speaker:Dr. Kai-Fu Lee, Chairman & CEO, Innovation Works
Time: 18:30 - 20:30, Wednesday, March 17, 2010
Venue: 20th Floor, Tower E2, Oriental Plaza, 1 East Chang An Avenue, Beijing, China
Language: Mandarin
Participation Fees: Free for CVCA/YVCC members ONLY
Feature Article

CVCA Chairman Yichen Zhang Submitted a Proposal at NPC & CPPCC 2010
The annual NPC and CPPCC meetings currently being held are of great significance and have attracted great the public attention. Now, despite China's current economic recovery, the international and domestic economic situation is still complex and volatile. Therefore, the current big issue is how to promote the development of China's VC/PE industry so as to speed up industrial restructuring and encourage indigenous innovation.
CVCA Strengthens its Leadership and Influence with Board Expansion
The current opportunities and challenges within the China VC/PE industry clearly show there is space to better address our members and industry needs. 2009 was CVCA's 8th anniversary and CVCA has been dedicated to improving the regulatory environment and raising the public profile for the VC/PE industry. In 2010, CVCA will continue its efforts to achieve sustainable development of China's VC/PE industry.
Welcome New Members
In no particular order
Regular Member

MGPA is an independently managed private equity real estate investment advisory company focused on real estate investment in Europe and Asia.
Supported Events
· China Individual Income Tax Forum--2010/3/17
Industry News
· Spurned by banks, China property firms court PE funds
· Israel's Infinity launches six China yuan funds
· Asia private equity fundraising bounces back
· China winning green race--US venture capitalist
· Prudent Energy stores up $22m in new funding
· UPDATE 1-CITIC Capital to expand abroad after CIC injection
· Baidu Lands $50 Million From U.S. Investors
· Commentary: Morgan Stanley retreats from China, private equity is in
· Carlyle, Fosun Set Global Ambitions for Partnership
· Hanson Back to Deal Making With China Fund
· ADB May Start $100 Million Clean-Energy Venture Capital Fund
Copyright © 2008-2014 China Venture Capital and Private Equity Association. All rights reserved.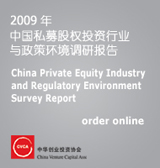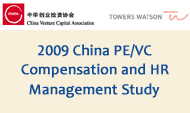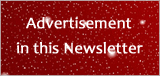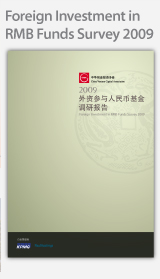 Past Events

International Women's Day Roundtable Luncheon: Female Entrepreneurship Development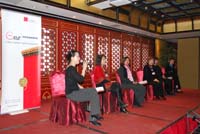 March 8, 2010 marked the 100th anniversary of International Women's Day, and the International Women's Day Roundtable Luncheon was successfully held in Beijing by China Venture Capital Association (CVCA).