CVCA电子月刊 2010年4月


April, 2010
Upcoming Events
CVCA Senior Executive Investment and Management Sharing Series in Shanghai


Guest Speaker: Mr. Jing HUANG, Managing Director of Bain Capital / Governor of China Venture Capital Association
Time: 12:00pm - 14:30pm, Tuesday, April 13, 2010
Venue: Function Room 3, Floor 3, InterContinental Hotel, No.777 Zhangyang Road, Shanghai, China
Language: Mandarin
Participation Fees: CVCA members RMB 200; Non-members RMB800
Senior Executive Investment and Management Series

Guest Speaker: Dr. Shangzhi WU, Chairman and Managing Partner of CDH Investments/Governor of CVCA
Time: 12:00 - 14:30, Tuesday, April 27, 2010
Venue: 9 Dynasty, No. 39-1 building (Northwest Corner of Wangjing Bridge), North 4th Ring Road, Beijing
Language: Mandarin
Participation Fees: CVCA members: RMB200; Non-members: RMB900
Senior Executive Investment and Management Series
China Economic Outlook and Capital Market Prospect 2010

Guest Speaker: Mr. Jun MA, Chief Economist for Greater China, Deutsche Bank
Time: 12:30pm - 14:30pm, Friday, April 16, 2010
Venue: Room 142-143, 14/F, China Club H.K., 2A, Des Voeux Road Central, Hong Kong
Language: English
Participation Fees: CVCA members HK$350; Non-members HK$900
Investment Opportunity and Policy Environment of Lujiazui Function Zone of Pudong New Area, Shanghai

Guests: Wang Dehong, Deputy Director, and the delegation of Lujiazui Function Zone Administration of Pudong New Area, Shanghai

Time: 15:30 - 20:00, April 21, 2010
Venue: 2F, Beijing KunLun Hotel
Language: Mandarin
Participation: free of charge for CVCA members by invitation (one person form one member firm)
Seminar on China Real Estate Investment Strategy

Time: 13:00 - 17:30, Tuesday, May 18, 2010
Venue: Function Room 6, Floor 3, InterContinental Hotel ( No.777 Zhangyang Road, Shanghai)
Registration fee: CVCA /CREDIA members:RMB500; Non-members:RMB1,500
Language: Mandarin
CVCA Academy: Investor Relations & Financial Communications Essentials

Time: 13:30 – 17:15, Tuesday, April 20, 2010
Venue: Hengshan Room, Training Center, Oriental Plaza(2F, Tower E2, Oriental Plaza, No.1 East Chang'an Ave., Beijing)
Registration fee: CVCA member and its portfolio companies: RMB 500; Non-member: RMB 1,200
Language: Mandarin
Welcome New Members
In no particular order
Associate Member

China Renaissance, established in Beijing in 2004, is a leading independent investment bank in China. The company focus on top Chinese entrepreneurs across a broad range of sectors.

Jun He Law Offices is widely recognized as a leading full-service law firm in China, uniquely positioned to provide superior legal services in commercial transactions and disputes.
Supported Events
· The IFC's 12th Annual Global Private Equity Conference in association with EMPEA
Industry News
· UPDATE: Ping An May Launch Private-Equity Unit In April - Source
· Hopu Inks Mongolia Coal Deal
· China Pension Fund Seeks Overseas Private Equity Quota, Dai Says
· Venture-Capital Deals in Clean Tech Hit Record In First Quarter
· Taiwan ex-govt official now private equity boss in China
· China takes lead in clean-power investment
· RPT-UPDATE 2-Top Goldman partner Hu to launch China fund -source
Copyright © 2008-2014 China Venture Capital and Private Equity Association. All rights reserved.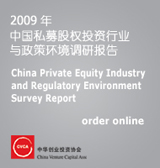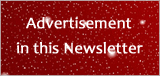 China Private Equity Matters
April Edition Now On-line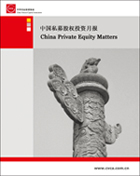 The monthly China Private Equity Matters tracks the recent news in private equity and venture capital industry in the Greater China region; as well as provides comprehensive analysis on investment trends, policy development and government moves. It is open to CVCA Members only.
Please read moreabout this month's issue.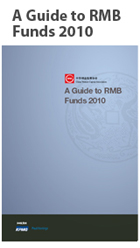 Past Events
CVCA Academy: Human Resources Management Strategy of VC/PE Industry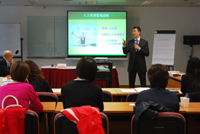 Human Resources Management Strategy of VC/PE Industry which was tailored to VC/PE industry, was held successfully on April 12, 2010. CVCA invited Mr. C.K. Lee, Managing Director of C.K. Lee & Associates, as the keynote speaker of this learning event.
Policy Interpretation and Practice on foreign VC/PE establishing partnerships in Shanghai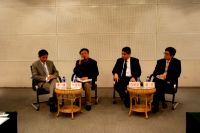 On March 30, CVCA and SHPEA successfully launched the CVCA China Government Seminar with the theme of "Policy Interpretation and Practice in Foreign-Invested Partnerships" in Shanghai.
CVCA Academy: ChiNext Listing Workshop in Shanghai
Considering the interests and demands of our CVCA Members, the CVCA Academy held another round of its ChiNext Listing training course in Shanghai on March 26.
CVCA Business Roundtable Seminar: Structuring Issues in PIPE and Take-Private Transactions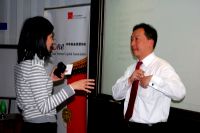 To meet the VC/PE communities' demand of PIPE knowledge, CVCA had Mr. Greg Liu, the partner at Paul Weiss, as the guest speaker at our most recent roundtable, to deliver a lecture on PIPE and take-private transactions.
CVCA/YVCC Entrepreneur Sharing Series: China's Innovation Era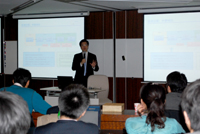 "China's Innovation Era" organized by CVCA and YVCC was successfully held on March 17, 2010. We are honored to have Dr. Kai-fu Lee, the Chairman and CEO of Innovation Works as our distinguished guest speaker.