CVCA电子月刊 2014年8月


August, 2014
Upcoming Events

CVCA Annual Meeting & China VC/PE Summit 2014 - Nov 20/21, 2014, Beijing
The CVCA Annual Meeting & China VC/PE Summit 2014 will be held on November 20-21, 2014 (Thursday-Friday) in Beijing. Held annually, the summit is a valuable opportunity to provide an effective exchange and networking platform among senior executives from CVCA members and our friends. Participants will discuss and exchange views on key industry issues and topics that are essential to industry development, share best practices and experience, in hope of further promoting the sound development of the VC/PE industry in China.
The CVCA annual summit is also one of the most celebrated and high-level forums in the PE/VC industry in China. Besides CVCA members, the forum also attracts participation by government officials, industry experts, other influential PE/VC investment organizations, entrepreneurs and professionals from renowned financial services institutions.
Agenda
Thursday, November 20, 2014
Pre-AGM Dinner
Friday, November 21, 2014
Opening Remarks and Keynote Speech
Dialogue I - The Era of Big Asset Management
Dialogue II – Regulatory and Industry Development
Roundtable I - Innovations in PE Fundraising
Roundtable II - Overseas M&A
Roundtable III - Domestic M&A
Roundtable IV - Exit Strategies and the Choice of IPO Location
Roundtable V - O2O and IOF
Roundtable VI - Medical and Healthcare
Cocktail/Networking Session
Closing Dinner
Please contact us for more details or refer to our website in early October.
Supported Events
· 2nd Annual Asia Pacific Distressed Investing & Corporate Restructuring Summit 2014 – 18/19 November 2014,Hong Kong
· Asia Private Equity Forum 2015 – Jan 21, 2015, Hong Kong
· German Private Equity Conference - 5 December 2014, Frankfurt am Main
· The Ernst & Young Entrepreneur Of The Year 2014 China Awards Program
Copyright © 2008-2014 China Venture Capital and Private Equity Association. All rights reserved.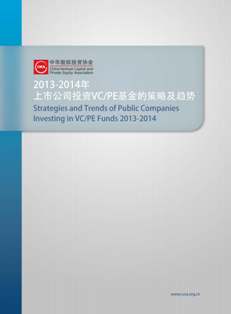 China Private Equity Matters
August Edition Now On-line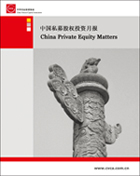 The monthly China Private Equity Matters tracks the recent news in private equity and venture capital industry in the Greater China region; as well as provides comprehensive analysis on investment trends, policy development and government moves. It is open to CVCA Members only.
Please read moreabout this month's issue.

Past Events
CVCA Academy Management Series VC/PE Related Policy Update – 10 September, Beijing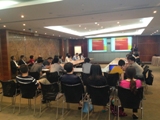 CVCA hosted a seminar on VC/PE Related Policy on September 10 in Beijing.