CVCA电子月刊 2014年9月


September, 2014
Upcoming Events

CVCA Annual Meeting & China VC/PE Summit 2014 - November 21, Beijing
The CVCA Annual Meeting & China VC/PE Summit 2014 will be held on November 21, 2014 (Friday) in Beijing. Held annually, the summit is a valuable opportunity to provide an effective exchange and networking platform among senior executives from CVCA members and our friends. Participants will discuss and exchange views on key industry issues and topics that are essential to industry development, share best practices and experience, in hope of further promoting the sound development of the VC/PE industry in China.
The CVCA annual summit is also one of the most celebrated and high-level forums in the PE/VC industry in China. Besides CVCA members, the forum also attracts participation by government officials, industry experts, other influential PE/VC investment organizations, entrepreneurs and professionals from renowned financial services institutions.
Registration contact
Lin-lin SONG
Tel: 8610-8518 3584 ext. 809
E-mail: lin@cvca.org.cn
Sponsorship opportunities please consult:
Ning SUN
Tel :86 10 - 8518 3584 ext.816
E-mail:ning@cvca.org.cn
New Publication
CVCA releases report on Valuation Adjustment Mechanism
Supported Events
· Asia Private Equity Forum 2015 – Jan 21, 2015, Hong Kong
· German Private Equity Conference - 5 December 2014, Frankfurt am Main
· AVCJ Private Equity and Venture Forum Taiwan 2014 - 20 November 2014,Taipei
· 2nd Annual Asia Pacific Distressed Investing & Corporate Restructuring Summit 2014 – 18/19 November 2014,Hong Kong
Copyright © 2008-2014 China Venture Capital and Private Equity Association. All rights reserved.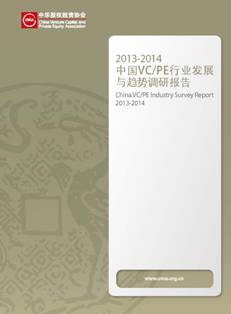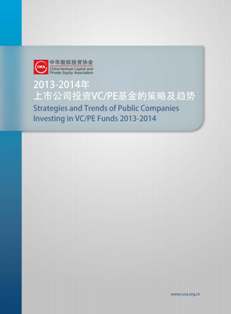 China Private Equity Matters
September Edition Now On-line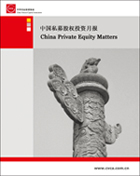 The monthly China Private Equity Matters tracks the recent news in private equity and venture capital industry in the Greater China region; as well as provides comprehensive analysis on investment trends, policy development and government moves. It is open to CVCA Members only.
Please read moreabout this month's issue.