CVCA电子月刊 2014年10月


October, 2014
Event Highlights
CVCA Annual Meeting & China VC/PE Summit 2014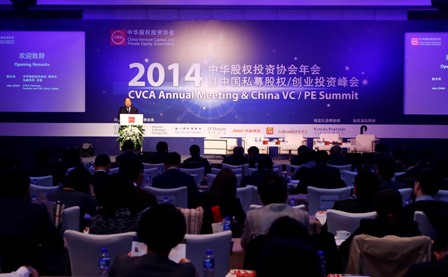 CVCA Annual Meeting & China VC/PE Summit 2014 was held in Beijing on November 21. Over 300 PE/VC professionals and entrepreneurs attended the event.

John ZHAO, CVCA Chairman, Founder and CEO of Hony Capital, delivered the welcome speech. Wenbiao DONG, Chairman of China Minsheng Investment Corp., Ltd., and Linbo HE, Managing Director and Head of PE Investment Department of CIC gave keynote speeches on private equity investment opportunities from China perspective.
The chairmanship handover ceremony was held at the AGM. Chairman John ZHAO handed a Marble Pillar (Huabiao) shaped trophy, which symbolizes direction pointing, democracy, wisdom and efforts pooling, to Chairman Elect Chang SUN, Chairman of North Asia of Warburg Pincus Asia LLC.
Roundtable discussions on Innovations in PE Fundraising, Overseas M&A, Domestic M&A, Exit Strategies and the Choice of IPO Location, O2O and IOF, Medical and Healthcare were held in the afternoon.
At the subsequent dinner party, David Daokui LI, Chair Professor/Director of CCWE Center of Tsinghua University gave the keynote speech titled The Impact of China's Financial Reform on VC/PE. Mr.Li's speech was followed by a CVCA LP Committee launch ceremony, Awards presentation, and a wealth management presentation.
Supported Events
· German Private Equity Conference - 5 December 2014, Frankfurt am Main
· Asia Private Equity Forum 2015 – Jan 21, 2015, Hong Kong
· SuperInvestor Asia 2015 – February 2-4 2015, Singapore
· The 5th Annual SuperReturn China 2015 - 23 -25 March 2015, Beijing
Copyright © 2008-2014 China Venture Capital and Private Equity Association. All rights reserved.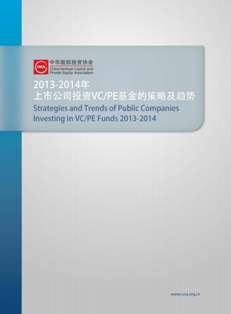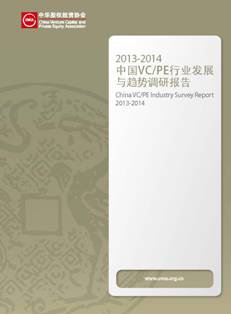 China Private Equity Matters
October Edition Now On-line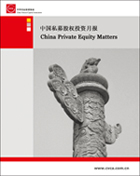 The monthly China Private Equity Matters tracks the recent news in private equity and venture capital industry in the Greater China region; as well as provides comprehensive analysis on investment trends, policy development and government moves. It is open to CVCA Members only.
Please read moreabout this month's issue.